Current Payday Lenders in Texas – Terms, Rates, Legislation
The list of payday lenders in Texas
Are payday loans legal in Texas?
Texas is one of the states that allows payday loans. This financial assistance belongs to short-term loans with high interest rates. It states the rates and terms allowed on the territory of Texas.
Takeaways:
Maximum amount: Not specified
Maximum Interest Rate (APR): N/A, due to the credit access business tricks
Minimum term: 7 days
Maximum term: 180 days
Number of rollovers allowed: Any
Number of outstanding loans allowed: Any
Cooling-off period: None
Finance charges: Any, due to the credit access business tricks
Criminal action: No, except in case of forgery, fraud, or theft
Am I eligible for a payday loan in Texas?
The following are cash advance requirements:
minimum age requirements (18 in most states);
Valid ID;
Proof of steady income;
Open and active checking account;
Working phone number.
What do you need to get a payday loan online?
If you decide to apply for a payday loan online, you will typically need to enter the following person-related information:
personal information: your full name, address, phone number, Social Security Number, and a valid ID number;
income information: your income type, employer information (if necessary), solvency, and your income amount (if your required);
banking information: your checking account number and routing number;
card information sometimes required to repay the loan.
Payday loan amounts in Texas
There is no specified maximum loan amount for payday loans issued. Direct lenders can provide payday loans in the amount of $500 to $1,000 as there are no strict limits set in the state.
However, in states that have specified the extra local regulation template, a credit access business is not allowed to provide a deferred presentment transaction, or payday loan, that is over 20% of the gross monthly income.
Maximum term for a payday loan in Texas
Texas payday loans have a maximum term limit of 180 days. They can also have repayment plan as short as 7 days.
Rates, fees and other charges in Texas
Lender withdraws interest on the amount borrowed at 10.00% Annual Percentage Rate (APR). In addition, the Credit Access Business charges a service fee between 1.55 and 1.65 times the body loan amount.
The APR will range depending on the term of your loan. Please get acquainted with your agreement for the APR and other terms applicable to your loan.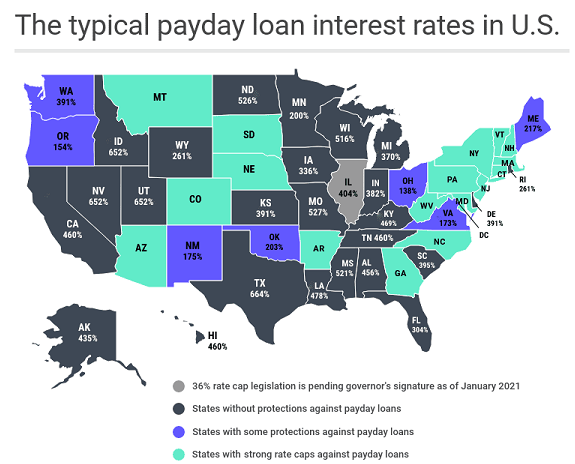 What is the statute of limitations on a payday loan in Texas?
The statute of limitations on payday loans in Texas totals 4 years. This implies that if you are late in repayment, the lender has 4 years to claim debts. If they don't start a lawsuit within this time span, they can't sue you at all. Unfortunately, lenders rarely allow the statute of limitations to expire.
There are the following statutes of limitations in Texas:
Tex. Fin. Code Ann. §341.001
Tex. Fin. Code Ann. §342.007 and §342.008
Fin. Code Ann. §§342.251 et seq.
Fin. Code Ann. §342.601 et seq.
Fin. Code Ann. §393.221 et seq. and §393.604 et seq.
7 Tex. Admin. Code §83.6004 and §83.1001 et seq.
Such requirements relate to both online and offline lenders. To operate in the state, lenders have to comply with the following regulations:
all lenders must obtain a license;
all lenders must protect all the information (terms, interest, fees, repayment period) before the documents are signed.
Consumer info
In case of fraud or any illegal lender's action, Texas law recommends that the problems was handled with a lender first. However, in case of non finding a solution, there are two regulatory bodies to address:
The Texas Office of Consumer Credit Commissioner (OCCC);
Texas Attorney General.