Cash Central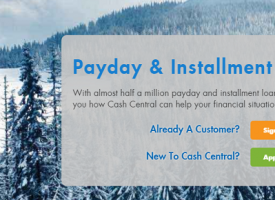 Online Payday Personal Consumer Loans up to $5,000
Easy Application, Fast Processing, Quick Approval, Any Credit Score
Request a Loan


Cash Central is a lender that issues payday, installment loans. There is also a line of credit. It is a secure, reliable, state licensed service. The terms and rates are dependent on the state you apply for a financial product in.
Company name
Cash Central
Founded
Unknown
Address
5165 Emerald Parkway, Suite 100
Dublin, OH 43017
Website
https://www.cashcentral.com/
Phone number
1-(800)-460-4305
Email
customerservice@cashcentral.com

Pros
Direct lender
State registered
Payday, installment loans, line of credit
Cons
Increased APR
Limited number of states is served
Bottom Line
Cash Central is a direct lender that serves the following states: Washington, Idaho, North Dakota, Minnesota, Wisconsin, Delaware, Wyoming, California, Nevada, Utah, Kansas, Missouri, Tennessee, South Carolina, Florida, Alabama, Mississippi, Lousiana, Texas, New Mexico, Alaska. The rates and terms will vary depending on your residence. Besides, the rates and terms may vary on whether you are a regular or a new-coming customer.
Types of Loans
This company offers payday and installment loans.
Requirements
The short list of the requirements set by Cash Central:
A verifiable source of income;
A checking account;
Two current phone numbers;
Social Security number.
Category: Online Loans
Tags: Alabama, California, Delaware, Florida, Idaho, Kansas, Minnesota, Mississippi, Missouri, Nevada, North Dakota, South Carolina, Tennessee, Utah, Washington, Wisconsin, Wyoming
Posted by MiaAshton