Current Payday Lenders in Utah – Terms, Rates, Legislation
The list of payday lenders in Utah
Are payday loans legal in Utah?
Payday loans obtain legal status in Utah. This state imposes no limit on the cash advance amount to be offered in the state. Utah has very flexible payday loan regulations. There were many attempts to introduce stricter payday loan practices haven't come into force for years. The most efficient attempt was the 2016 amendment as it pushed one of every 6 lenders aside from the state. At the moment, there are 50 payday lending services, and 32 are reported to offer payday loans online.
Takeaways:
Maximum amount: None
Maximum Interest Rate (APR): None; 652% APR on average
Minimum term: Not specified
Maximum term: 10 weeks
Installment option: Yes
Number of rollovers allowed: None
Number of outstanding loans allowed: Any
Cooling-off period: Not allowed
Finance charges: Any
Collection charges: $35 non-sufficient funds (NSF) fee
Criminal action: Prohibited
Am I eligible for a payday loan in Utah?
Payday loans are a favourable option for those who don't have the best credit score. If you have a desire to take out a payday loan, every borrower must be at least 18 of age, have an ID, valid bank account, and an income certificate. Certificates include a bank statement or a pay stub. In addition, some lending managers will ask for a Social Security Number. You may still be denied even if you meet all the requirements. Depending on where you and the lender locate you choose, there may be other restrictions for taking out a payday loan.
Payday loan amounts in Utah
Noteworthy is that, max amount is not specified in Utah. As a result, payday lenders offer loans with much higher outstanding principal amounts than they offer in other states.
For example, many lender approve payday loans for as much as $1,500 in Utah. Meanwhile, the typical payday loan in the United States is only about $100-$1,000.
Maximum term for a payday loan in Utah
Originally, payday loans can issue cash advance for 10 weeks in Utah. Even if you can't pay your principal and interest within that time, lenders can't withdraw you interest after those 10 weeks.
Additionally, you can request an extended payment plan (EPP) once in a year, or any time that you pay interest on a payday loan for 10 consecutive weeks. The EPP must last for 60 days or 90 days after the borrower defaults, whichever is longer.
Rates, fees and other charges in Utah
The payday lending laws in Utah show no limitations on finance charges. Payday lenders can specify their rates at whatever they think borrowers will be willing to pay back.
For example, there are charges equal to $25 for every $100 in principal. On a 10-day term, that's a 912.5% APR.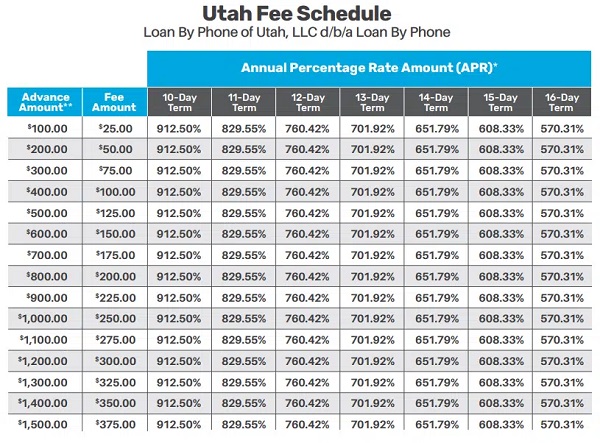 Additionally, direct lenders can impose extra $35 NSF fee if they attempt to collect on your lending option by debiting a bank account or cashing a post-dated check and fail to pay it back because of lack of cash.
What is the statute of limitations on a payday loan in Utah?
Utah officially called payday loans as deferred deposit loans. The Check Cashing and Deferred Deposit Lending Registration Act provides the Utah Department of Financial Institutions with the strength to take the business under control that is engaged in providing this type of loan to the state's residents.
It's an obligation for businessmen who plan to enter into payday lending business. The business should be registered under state law. Otherwise, any service is not allowed to collect or retain any fees or interest relating to deferred deposit loans.
If you don't have such a license, you can't serve people who desire to take out payday loans or deferred deposit loans in Utah. It's also breaking the law is a lender issues online payday cash advances in the said state if a lender doesn't apply for registration and follows the payday lending laws.
Consumer info
Lenders cannot issue one more payday loan while you repay the first one (10 weeks).
Lenders are banned to apply any criminal actions against borrowers.
Lenders are able to check a report from a credit bureaus.
However, lenders may file the court for the loan amount and interest, also court costs and attorney's fees.
Lenders are allowed to charge a max. $20 if athe agreement is broken.
Utah borrowers are allowed to make partial payments of $5 at no extra fee at any period of the repayment term.