Current Payday Lenders in South Carolina – Terms, Rates, Legislation
The list of payday lenders in South Carolina
Are payday loans legal in South Carolina?
The South Carolina payday loan laws still allow to issue payday loans. Direct lenders are able to issue cash advance that are repayable at the borrower's next paycheck, with high annual percentage rates (APRs).
The state set several consumer protections, like limiting borrowers to one payday loan at a time and banning rollovers.
Takeaways:
Maximum amount: $550
Maximum Interest Rate (APR): 391% APR on a 14-day loan
Minimum term: N/A
Maximum term: 31 days
Installment option: Yes
Number of rollovers allowed: None
Number of outstanding loans allowed: One
Cooling-off period: N/A
Finance charges: 15% of the loan's principal balance
Collection charges: $30 nonsufficient funds (NSF) fee
Criminal action: Prohibited
Am I eligible for a payday loan in South Carolina?
Your monthly income should be at least $1,500;
You should have a bank account where you can deposit the funds;
You should be able to provide income certificate;
You must be 18 years old or older;
You cannot have been convicted of certain crimes;
You must be a US resident.
Payday loan amounts in South Carolina
The maximum allowed payday loan amount in SC is $550. There's no minimum amount specified. But ordinary payday lenders often start with $50. They then increase their offers raising loans for $10 or $25 up to the maximum limit.
Maximum term for a payday loan in South Carolina
The maximum allowable length of a payday loan is 31 days in South Carolina. Lenders can't extend the period. Rollovers are not allowed.
Rates, fees and other charges in South Carolina
The payday loan laws in South Carolina require that lenders charge not over 15% of a loan's body. It doesn't imply a 15% interest rate. A 15% finance charge actually works out to 391% APR for 2-week loans.
Simply put, lenders cannot withdraw more than $15 per $100 in principal, so the most you should pay in finance charges for a single payday loan transaction is $82.50 issued the $550 principal balance limit.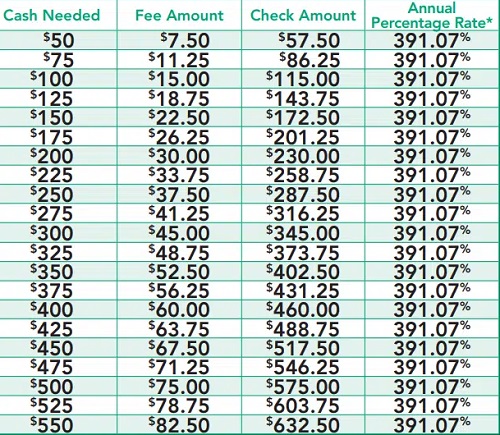 What is the statute of limitations on a payday loan in South Carolina?
In the state of South Carolina, payday loans are legal according to S.C. Code Ann. 34-39-110 et seq., or "South Carolina Deferred Presentment Services Act". Thus, South Carolina payday loans are legally called deferred presentment services.
All South Carolina payday lending companies with the desire to serve as a payday lender must get a license from the State Board of Financial Institutions. Also, the state legislation requires that upon dealing with an agreement, a written down contract should be signed by both parties: a borrower and a lender. The contract should disclose all the loan terms inclusively of the lender's name, the date of the transaction, its amount magnifying all rates and fees.
Consumer info
The South Carolina Board of Financial Institutions is the department to exert control over the financial services industry in the state. Their Office of the Commissioner of Consumer Finance looks after 4 types of controlled institutions, inclusively of deferred presentment providers, also called payday lenders.
The mission of this service is to secure the South Carolina citizens by keeping a financial industry through effective regulatory measures. It is applied in order to power borrower's confidence, guarantee reliable access to financial services, and boost economic growth.