Current Payday Lenders in Rhode Island – Terms, Rates, Legislation
The list of payday lenders in Rhode Island
Are payday loans legal in Rhode Island?
Rhode Island made its payday loan regulations legitimate in 2001 under the Check Cashers Act. Recent years saw the introduction of stricter measures, however, none of the proposed bills was accepted. Currently, payday loans in Rhode Island are officially legal.
Rhode Island has set a $500 limit on cash advance. The min term is 13 days. The max term is not specified. 261% is the max APR. As a result, lenders cannot withdraw over 10% of the amount issued. 1 rollover is allowed. Criminal actions are prohibited.
Table: Short details
| | |
| --- | --- |
| Legal Status | Legal |
| Interest Rate (APR) | 261% |
| Max. Loan Amount | $500 |
| Min. Loan Term | 13 days |
| Max. Loan Term | Not specified |
| Number of Rollovers | 1 |
| Finance Charges | 10% of the amount |
| Database Tracking | No |
Am I eligible for a payday loan in Rhode Island?
The requirements for RI payday loans are loyal and the following:
be at least 18 years old;
be a state resident;
have an active checking account and provide proof of income;
provide valid ID such as a driver's license or state ID card;
have a valid phone number and email address;
source of income.
Payday loan amounts in Rhode Island
Originally, the max. loan amount is $500. You can take out maximum three payday loans annually. However, each loan must not be over $500. All issued loans in this calender year must have a cumulative principal of $1,500, not more.
Maximum term for a payday loan in Rhode Island
The minimum loan term is 13 days. The maximum term is not specified.
Rates, fees and other charges in Rhode Island
We collect the main rates and fees in relation to Rhode Island payday loans:
lenders can withdraw a 10% interest rate;
lenders are banned from withdrawing over 260% of APR for a $100 cash advance;
loans taken out to a borrower annually can equal to three;
loans should not exceed $500 each;
creditors may withdraw up to 12% on debt without an agreement;
if there is an agreement, lenders are able to charge 21%.
Get acquainted with the payments when you issue a $100 payday loan.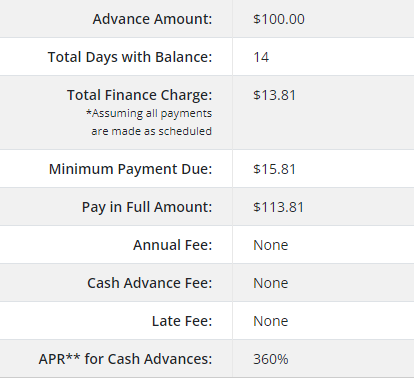 What is the statute of limitations on a payday loan in Rhode Island?
Payday lending industry in Rhode Island is controlled by R.I. Stat. Ann. 19-14.4-1 et seq. (CHAPTER 19-14.4, Check Cashing). The officially-recorded name for payday loans in RI is "deferred deposit transactions".
All lenders willing to lend small loans must obtain a license issued by the Rhode Island Department of Business Regulation to operate in the state.
Consumer info
July 2020 saw a new regulation that quoting: lenders are not asked to check a borrower's capability to pay a loan back. Lenders are not allowed to take any criminal actions against clients.
Every person can refer any complaints or queries about a lender to the Rhode Island Department of Business Regulation.
Keep in mind: Payday loans are issued with high rates. Make sure you will be able to repay a payday loan to avoid a financial trap.