Secure Speedy Loans

Online Payday Personal Consumer Loans up to $5,000
Easy Application, Fast Processing, Quick Approval, Any Credit Score
Request a Loan

SecureSpeedyLoans is a loan matching platform offering speedy loans online of up to $35,000 from a large network of reputable lenders throughout the U.S. They boast of a secure and effortless online application process, with approval available in a few minutes. Loan offers vary by lender and it is easy to compare loan offers before accepting an offer. The service is available in most of the 50 U.S. states. You can expect to receive the money as soon as the next day.
| | |
| --- | --- |
| Company name | Secure Speedy Loans (Sincerely, LLC) |
| Founded | Unknown |
| Address | 7050 West Palmetto Park Road #15-345 Boca Raton, FL 33433 |
| Website | https://www.securespeedyloans.com/ |
| Phone number | 1-888-333-1360 |
| Email  | info@SecureSpeedyLoans.com |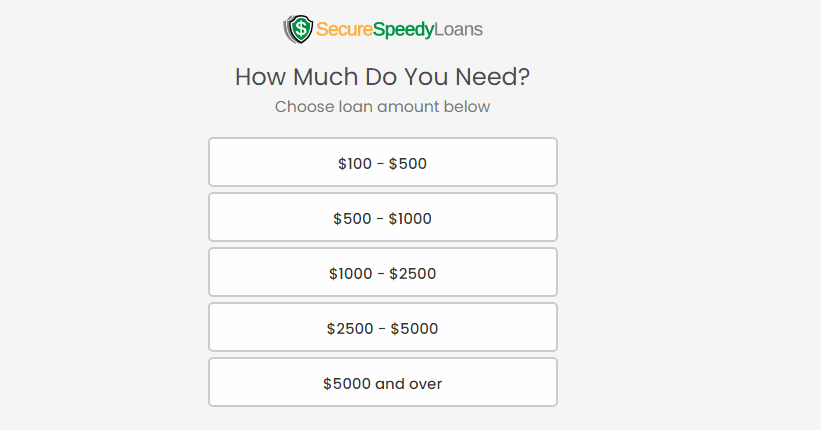 Pros
Quick loans of up to $5,000
Simple online application
Repayments of up to 72 months
Fast funding available within one business day
All credit types welcome to apply
Large network of lenders
Application service is available free of charge
No prepayment penalties
No minimum credit score needed to apply
Cons
Not a direct lender
Loan rates cannot be guaranteed
Specific eligibility requirements not listed as it varies by lender
Not available in all states
Bottom line
SecureSpeedyLoans.com seems a safe and trusted loan agent. They have reliable customer support. The loan referral service is suitable for those who need a speedy loan online with flexible payment terms. Although not available in all states, SecureSpeedyLoans offers convenient repayment terms from a wide range of licensed U.S. lenders. It's fast and easy to compare personal loan offers side-by-side and online requests take only a couple of minutes, with most loans are issued within 24 hours.
Types of loans
SecureSpeedyLoans.com offer personal loans from $100 to $5,000 with flexible repayment periods of up to 72 months. You can get a loan with Secure Speedy Loans to pay for a car repair, home improvement expense, medical treatment, vacation, education expenses, etc. The company works with all credit types, making it easy for people with poor credit to apply for a quick loan online.
Loan APRs typically range between 5.99% and 35.99%, although the loan rates will depend on the lender you get matched with. There are no application fees, although some lenders may require a loan origination fee.
Personal loans offered by this company usually come with repayment periods of between 61 days and 72 months.
You may opt to make weekly or monthly loan payments and lenders from the network charge no penalties for early loan repayment.
Eligibility criteria
To qualify for a payday loan through securespeedyloans.com, you must meet a few basic requirements:
Be at least 18 years old
Be a U.S. citizen or permanent resident
Have a source of steady income
Have a valid, open and active bank account in your name
Category: Online Loans
Tags: Alabama, Alaska, California, Delaware, Florida, Hawaii, Idaho, Illinois, Indiana, Iowa, Kansas, Kentucky, Louisiana, Michigan, Minnesota, Mississippi, Missouri, Nebraska, Nevada, North Dakota, Ohio, Oklahoma, Rhode Island, South Carolina, Tennessee, Texas, Utah, Virginia, Washington, Wisconsin, Wyoming
Posted by MiaAshton