RoadLoans
Online Payday Personal Consumer Loans up to $5,000
Easy Application, Fast Processing, Quick Approval, Any Credit Score
Request a Loan
RoadLoans is an online lending platform based in Dallas that offers auto loans for new or used cars and also auto loan re-financing. Their auto loan products range from 1.99% APR and are available in 45 states (and Washington, DC). The company has been operating for about 20 years, which makes it an experienced lender. RoadLoans operates purely online and focuses on borrowers with bad or no credit, unlike many other financial institutions.
| | |
| --- | --- |
| Company name | RoadLoans |
| Founded | 2000 |
| Address | Santander Consumer USA Inc. P.O. Box 961245 Fort Worth, TX 76161-1245 |
| Website | roadloans.com |
| Phone number | (888) 276-7202 |
| Email  | Uknown (contact form available) |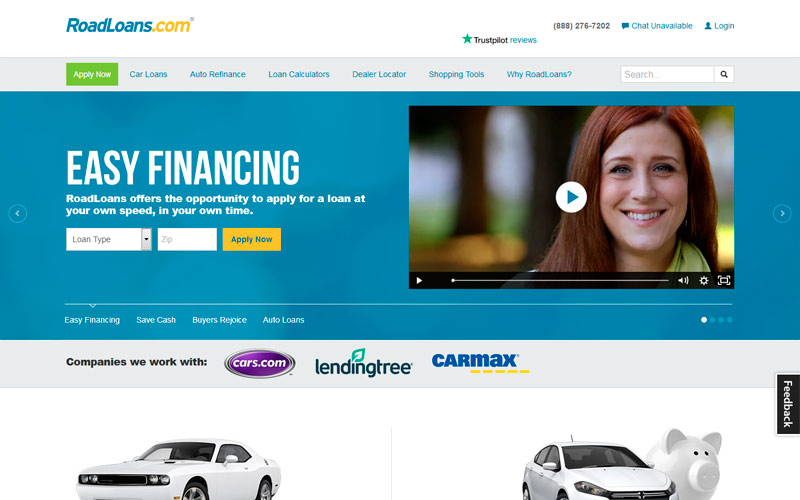 Pros
Instant application
Easy, painless process
Compare auto loan offers from multiple vetted lenders
Cash back refinancing
Funding within 1 business day
Competitive rates
Amounts between $5,000 and $75,000
Loan terms between 12 and 84 months
Low credit applicants
Multiple types of financing
Strong customer service
No credit requirements
Easy payment options
No application fees
Cons
Not available in all states
Rates aren't transparent
Preapproval isn't a green light
Limited dealerships supported
Get only one loan at a time
Late payment penatly fee
Bottom line
RoadLoans is a unique company as it offers car loans directly to people in-stead of through another financing source. Their loans are best for you if you have good credit and want to compare multiple auto loan offers in one place. You should also consider this lender if you want to buy or refinance a newer car versus an older one, or if you want to get your auto loan financing lined up before you visit a dealership.
Keep in mind that this lender is not transparent about its interest rates, terms, and conditions. For these reasons, you should be cautious before applying for an auto loan through roadloans.com.
Types of loans
With RoadLoans, you can apply for:
New car loans;
Used car loans;
Auto refinancing;
Cashback refinancing;
Private-party car loans.
Loan requirements
RoadLoans do not disclose a minimum annual income eligibility re-quirement. They will consider borrowers regardless of their employment status if they can prove their ability to pay off their loans in a timely manner.
To get approved, you must meet the following basic require-ments:
Be a US citizen or legal resident;
Be over 18;
Earn at least $1,800 per month;
Have no current car loan with RoadLoans;
Live in one of the states where this lender operates;
Have a credit score of at least 550 and up to 850.
You might have trouble getting a loan through this lender if you're already having another car loan.
To qualify, you may also need to provide a driver's license.
This lender claims to work with all types of credit. However, having a good credit can help you get a competitive deal and might help you get a higher loan amount.
Category: Online Loans
Tags: Alabama, Arizona, Arkansas, California, Colorado, Connecticut, Delaware, Florida, Georgia, Idaho, Illinois, Indiana, Iowa, Kansas, Kentucky, Louisiana, Maine, Maryland, Massachusetts, Michigan, Minnesota, Missouri, Montana, Nebraska, New Jersey, New Mexico, New York, North Carolina, North Dakota, Ohio, Oklahoma, Oregon, Pennsylvania, Rhode Island, South Carolina, South Dakota, Tennessee, Texas, Utah, Vermont, Virginia, Washington, West Virginia, Wisconsin, Wyoming
Posted by Deborah Wagner