National Debt Relief
Online Payday Personal Consumer Loans up to $5,000
Easy Application, Fast Processing, Quick Approval, Any Credit Score
Request a Loan
National Debt Relief is a BBB accredited debt negotiation company that helps consumers to solve their credit card debt problems. Their services include debt settlement, debt consolidation, debt negotiation, and bankruptcy. The company was founded in 2009 and licensed to work in 42 states. It's one of the most recognized companies of this kind in the USA. It's accredited with the American Fair Credit Council (AFCC) and the Better Business Bureau (BBB). The company usually charges between 15% to 25% of the total debt you enroll over 2-4 years. However, your exact interest rate depends on the amount you enroll and your location.
| | |
| --- | --- |
| Company name | National Debt Relief |
| Founded | 2009 |
| Address | 180 Maiden Ln 30th floor, New York, NY 10038 |
| Website | www.nationaldebtrelief.com |
| Phone number | 8-887-034-948 |
| Email  | marketing@nationaldebtrelief.com |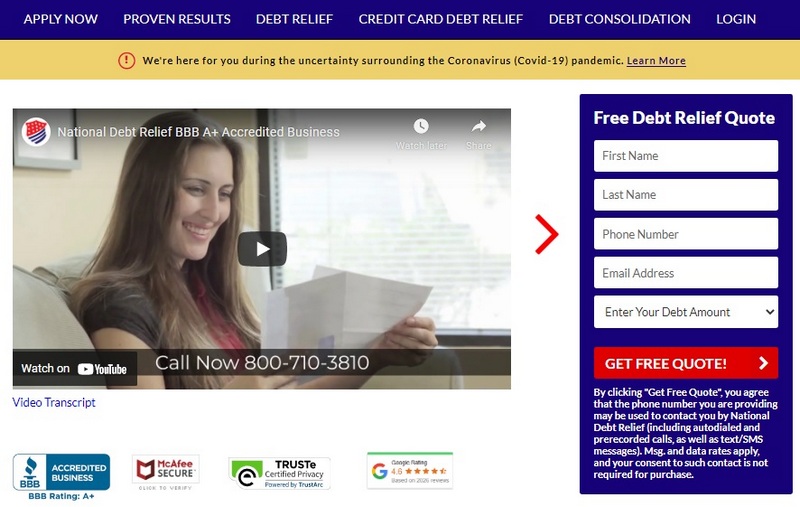 Pros
No upfront fees and no commission unless they negotiate a settlement
Money-back guarantee
Easy to apply
Free consultation
Soft pull of your credit
One of the leading companies of its type in the United States
You could save as much as 30% after fees
Accredited with BBB and AFCC
Cons
May result in a lower credit score
Only available in 42 states
You have to fall behind on payments on any debt you register with them
Mixed customer reviews
It won't stop creditors calling you
No mobile app
Bottom line
National Debt Relief seems a professional company that is really able to reduce your debt. We can recommend this service as they have a long experience and many top accreditations. They also offer various free services and useful information on their website to educate consumers financially. The company gives consumers a chance to escape debt.
Types of loans
National Debt Relief is able to assist with the following types of debts:
Unsecured personal loans
Installment loans
Balance transfer credit card and standard credit card
Rent arrears
Judgments that are six months old or more
Medical bills
Gas cards
Overdrafts
Store cards
Business
Cellphone
Veterinary
Timeshare contracts
They cannot assist you with the following types of debts,:
Mortgages
Vehicle financing
Car repair
Child support
Insurance policies
Speeding tickets
Court costs and fines
Taxes
Check-cashing loans
Warranties
Rent-to-own agreements
Bail bonds
Eligibility criteria
To qualify for debt relief with this comapny, you must:
Have a total debt exceeding $10,000;
Be in debt for several months;
Be able to make a monthly payment into a settlement fund;
Have financial trouble (for example reduction in hours, recent job loss, divorce, unexpected hospital or medical bills, death of a spouse, etc.)
Category: Online Loans
Tags: Alabama, Alaska, Arizona, Arkansas, California, Colorado, Delaware, Florida, Georgia, Hawaii, Idaho, Illinois, Indiana, Iowa, Kentucky, Louisiana, Maryland, Massachusetts, Michigan, Minnesota, Mississippi, Missouri, Montana, Nebraska, Nevada, New Jersey, New Mexico, New York, North Carolina, North Dakota, Ohio, Oklahoma, Pennsylvania, Rhode Island, South Dakota, Tennessee, Texas, Utah, Virginia, Washington, Wisconsin, Wyoming
Posted by Deborah Wagner