FaaastCash
Online Payday Personal Consumer Loans up to $5,000
Easy Application, Fast Processing, Quick Approval, Any Credit Score
Request a Loan

FaaastCash is an online financial solution provider that offers payday loans for those in need of quick cash. Its main function is to match consumers who need emergency cash with lenders that approve clients with low credit scores. The portal refers potencial borrowers to 100+ reliable lenders increasing the chances of getting approved for a short-term loan. FaaastCash has an extensive network of trusted lenders, so you can always find the right option for you. All lenders in the network are licensed and comply with lending US laws. The loan amount and lending period can be different, depending on the state and lender.
| | |
| --- | --- |
| Company name | FaaastCash |
| Founded | Unknown |
| Address | 515 South Riverside Avenue Medford, Oregon 97501 |
| Website | faaastcash.com |
| Phone number | (541) 500-3030 |
| Email  | info@faaastcash.com |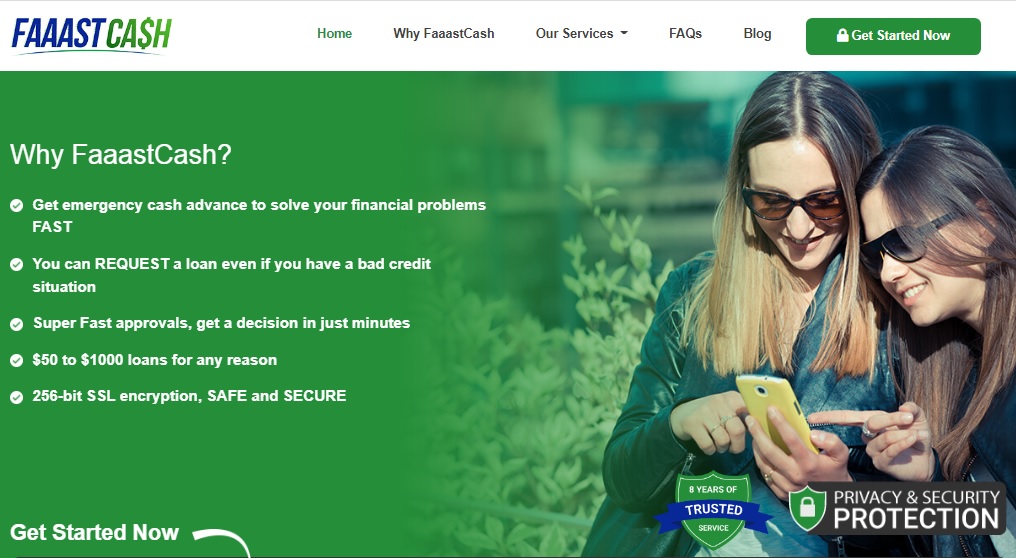 Pros
Over 100+ lenders
Fast online applicaion
Bad credit is ok
Rapid approval
Quick funding
Open 365 days a year
No hidden charges, free to apply
Borrow for almost any reason
Cons
Not a direct lender
Limited availability
Small amounts
Short term loans only
High costs
Not BBB accredited
Bottom line
FaaastCash.com is an online platform that connects consumers to suitable payday lenders. This online portal is only suitable if you are having short-term  financial struggles. If you're having long-term money difficulties, you'd better search for alternatives. With FaaastCash, you have a good chance of getting accepted regardless of your poor credit history. Although the company offers a wide network of lenders, it doesn't take any responsibility for its affiliates' actions after the loan agreement is e-signed. FaaastCash is not the lender, so read the offer carefully to ensure you are happy with rates and terms before accepting a loan.
Types of loans
FaaastCash.com focuses on payday loans that are easy and fast to access. You can fill out the application form online, without leaving your home, and only minimum documents are required. Loan amoutnts typically range between $100 and $1,000. Repayment periods usually do not excced 4 weeks.
Payday loans are unsecured, which means they do not require collateral. Such loans can be used for literally anything: car repairs, medical expenses, home improvement, debt consolidation, vacation, wedding, business trips, etc. They are repaid in one lump sum on the date specified in the agreement.
Eligibility criteria
FaaastCash have easy to meet eligibility criteria. If you meet the following criteria, you may qualify for a loan.
be at least 18 years old;
have a resident of the United States;
earn at least of $1000 per month;
have a valid email address and phone number
have an active US bank account to get money.
Category: Online Loans
Tags: Alabama, California, Colorado, Illinois, Kansas, Louisiana, Mississippi, Missouri, Ohio, Oklahoma, Oregon, Tennessee, Texas
Posted by MiaAshton