Credit Central
Online Payday Personal Consumer Loans up to $5,000
Easy Application, Fast Processing, Quick Approval, Any Credit Score
Request a Loan
Credit Central is a finance business based in Greenville, South Carolina. They have over 107 branches located through Alabama, Georgia, South Carolina, and Tennessee. It is an installment loan provider and not a payday lender. They also offer optional products that include credit-related insurance. Their credit amounts vary from state to state.
| | |
| --- | --- |
| Company name | Credit Central, LLC |
| Founded | 2002 |
| Address | 700 E North St Ste 15 Greenville, SC 29601-3013 |
| Website | creditcentralllc.com |
| Phone number | (864) 242-4422 |
| Email  | contact_us@creditcentralllc.com |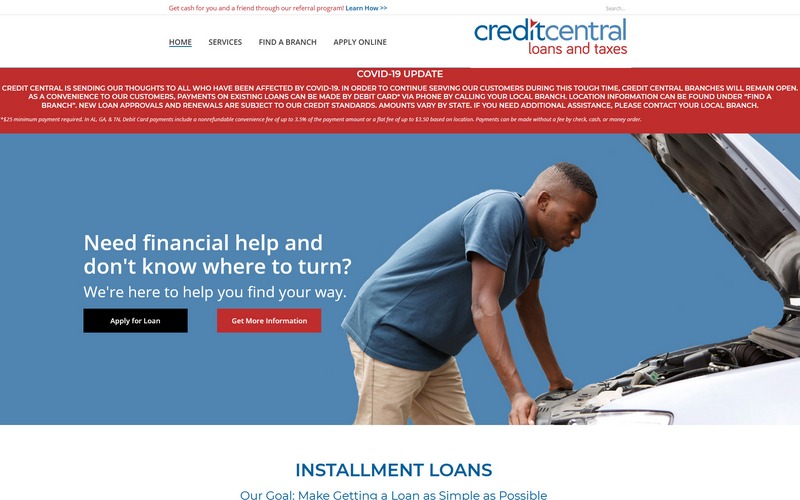 Pros
Quick process
Experienced lender
Additional services
Builds credit
Potencially fast funding
Three ways to apply to get a loan
Bad credit ok
Direct lender
Referral program
Cons
Limited availability
Limited information of the website
Only offers installment loans
Does not deposit funds on a bank account
You cannot make payments via the phone or online
Bottom line
If you need an installment loan and your credit history is fair or bad, then Credit Central could be a good choice as it claims to work with bad credit. Using their loans and repaying them in a timely manner will help you improve your credit. But you can only apply for a loan with this lender if you live in Alabama, Georgia, South Carolina, Tennessee, and Texas. Interest rates are not mentioned anywhere on the site and vary from state to state so we recommend that you explore other loan providers that quote rates and terms clearly.
Types of loans
Credit Central only offers installment loans – loans that are repaid over time with an agreed number of scheduled payments. There loans are designed to help you take care of bills, repairs, major purchases.
Loan requirements
Not all consumers will qualify for a loan with this lender. To get a loan with Credit Central, you must meet the following requirements:
Be 18+ years old (19+ in Alabama);
Be a US citizen or permanent resident;
Have a valid ID;
Have proof of regular income;
Have an open checking account;
Have a phone number.
They say they do take credit history into account during the approval process. However, they also mention that you may not be approved for a loan if you have a damaged credit score.