CashNetUSA
Online Payday Personal Consumer Loans up to $5,000
Easy Application, Fast Processing, Quick Approval, Any Credit Score
Request a Loan
CashNetUSA is one of US leading licensed online lenders and a popular choice for consumers looking for fast loans to cover unexpected expenses. Since 2004, the company has served more than 3 million customers. Their APRs range from 163% to 439%, depending on the state, loan repayment term, and some other factors.
| | |
| --- | --- |
| Company name | CashNetUSA |
| Founded | 2004 |
| Address | PO Box 206739. Dallas, TX 75320-6739 |
| Website | cashnetusa.com |
| Phone number | 1-888-801-9075 |
| Email  | support@cashnetusa.com |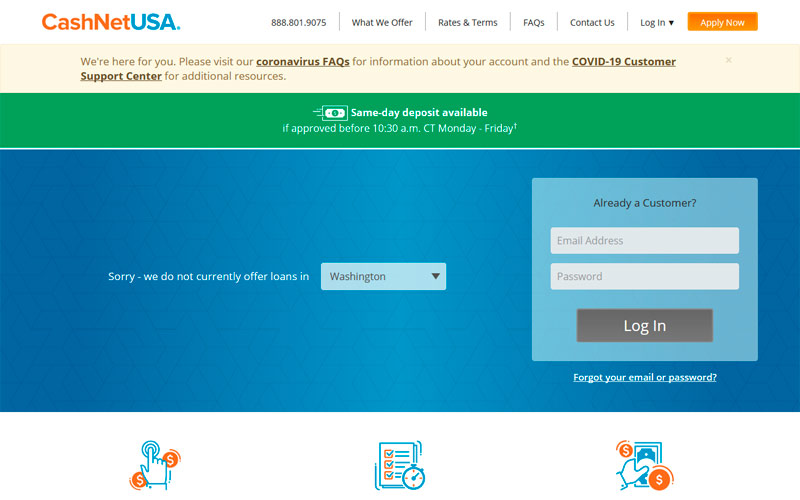 Pros
Direct lender
Established since 2004
Variety of offers
May qualify with no credit or credit issues
Small loan amounts Easy application process
Straight-forward pricing and rates
CashNetUsa mobile app
Loans can be acquired for any purpose
No penalties for early payments
Instant approval
No collateral required
Same-day and next-day funding
Direct deposit into your bank account
Easy withdrawal repayment option
Discount program
Educational resources
Secure site
Live chat customer service
Eligible in 30 states
No confusing paperwork
Cons
Small loan amounts
Not available in all states
Checking account required
Potencially high interest rates
A late payment fee
The impact on your FICO credit score
Not clear on interest rates as this varies state-by-state
Unwanted sales calls/emails
Bottom line
If you're in a tough situation and need some emergency cash, a payday loan or a line of credit through CashNetUSA could be a good option for you. If you do not need to obtain long-term financing and you're having bad credit and living in one of the served states, then it's likely that this company will be able to help. The lender has an established online reputation, however, rates can vary greatly depending on your state. The only way you can find out everything about your loan is to fill out the online application form. It won't have an impact on your credit score. Keep in mind that it's important that you weigh all your options before accepting a loan through this lender.
Types of loans
CashNetUSA offers 3 types of loans depending on where you live, including payday loans, installment loans and lines of credit. Loan amounts vary by state but payday loan amounts generally range between $100 and $500, while installment loans and lines of credit range between $100 and $3.000.
Loan requirements
In order to apply for a CashNetUSA loan, you are required to:
be a U.S. citizen or permanent resident;
be at least 18 years of age (19 in some states);
have an open checking account through a bank;
have proof of employment and have been employed for at least a month.
To be approved for a loan, you are not required to have good credit or any credit at all since the lender doesn't require a credit check.
Category: Online Loans
Tags: Alabama, Alaska, California, Delaware, Florida, Hawaii, Idaho, Illinois, Kansas, Louisiana, Maine, Michigan, Minnesota, Mississippi, Nevada, New Mexico, North Dakota, Ohio, Oklahoma, Oregon, Rhode Island, South Carolina, Tennessee, Texas, Utah, Virginia, Washington, Wisconsin, Wyoming
Posted by Deborah Wagner