Should I Get a Payday Loan or a Credit Card?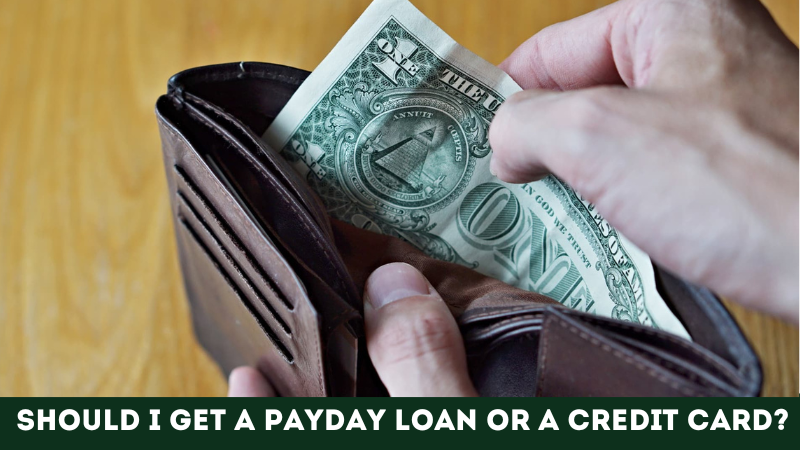 There appear more and more options for borrowing money every year. Personal loans, cash advance loans, credit cards, car title loans… A first-time borrower can easily get lost in a variety of options. Let's try at least a little to understand the advantages of the two most popular options for getting fast cash for daily needs: a credit card and a payday loan.
What Is a Payday Loan?
A payday loan is a small, short-term loan that is often due on your next payday. Amounts typically range between $100 and $1,000. Some lenders are ready to lend you up to $2,500. Repayment terms usually do not exceed 31 days. Such loans are also known as same-day loans.
Microfinance institutions are organizations that issue small-dollar unsecured loans to consumers. The funds are transferred to the borrower's bank account or issued in cash, depending on the lender's policies and your unique needs.
Like any product, payday loans have features that distinguish them from other similar borrowing options:
Relaxed eligibility criteria. Microfinance institutions impose much fewer requirements on their borrowers than banks: to get a same-day loan, it is not necessary to be employed, have a high income and good credit history. Thus, almost anyone can get approved for a payday loan.
Easy application. To get a loan from a microfinance institution, you do not need to fill out endless forms and collect a lot of documents – the application procedure is as simple as possible. To receive funds, you just need to provide proof of identity and income (any source).
Speed. Due to ease of application, you can get a payday loan as quickly as possible. if you apply online through our lender matching service, you can expect to have the money in your bank account as soon as the same day or the following day. Often, you can receive the funds in a matter of minutes.
High interest. Perhaps, most people will consider such loans unprofitable when compared with credit cards and other banking products. But this is a worthy price to pay for availability and speed.
How Do Credit Cards Differ from Payday Loans?
Getting a credit card cash advance is more complicated, and this is the main difference from getting a payday loan. In this case, the client receives a card with a certain limit of funds that can be spent on any needs. The borrower undertakes to repay them within the stipulated time and pays monthly payments depending on the money spent and the interest set on the card.
The interest rate on credit cards is more affordable than that of payday loans. However, to get a credit card cash advance, the borrower will have to work hard. Firstly, to apply for a credit card, you will need to provide a lot of documents certifying your solvency. The size of the credit limit depends on it. The request is usually processed for several days. Regretfully, very few banks offer instant credit cards for bad credit, so the process of borrowing money may be delayed for 5-14 days. In addition, your credit history and open loans play a huge role: banks set certain requirements for borrowers, so they can easily decline your request if you have existing debts, a poor credit score, or if you do not have a permanent income.
What Are the Pros and Cons of Payday Loans?
Microfinance institutions are becoming more and more popular every year. For example, over the past year, the number of payday loans issued in the USA has doubled. One of the main advantages of microfinance institutions is easy application and relaxed eligibility criteria.
Every adult US citizen or permanent resident is able to get a short-term loan through our online portal. You just need to have a government-issued ID, have a source of income, a valid phone number, e-mail address and a personal bank account. You can receive money in cash or via a bank account transfer.
Besides, it is possible to get a loan from an online lender around the clock for whatever purpose, including car repairs, home improvement, business expenses, vacation, education costs, etc. The popularity of Christmas payday loans is growing every year.
Interestingly, customers can also apply for a bad credit loan. Despite the fact that microfinance institutions check applicants with the help of scoring programs, they nevertheless treat their borrowers more loyally than banks. The main thing is that the person has no outstanding debts.
In addition, many organizations offer credit builder loans that allow people with bad credit reports — or no credit history at all — to build positive credit history. It is also worth mentioning loyalty programs that help you get a profitable loan. With their help, regular borrowers receive bonuses and discounts when applying for new loan obligations.
Of course, there is also a significant disadvantage of payday loans – they come with higher interest rates due to the high risk of non-repayment. Besides, loan amounts and terms are usually small. You can typically borrow only up to $2,500 for 2-3 weeks.
What Are the Pros and Cons of Credit Cards?
A credit card is a universal payment instrument used by millions of Americans. Its main advantage is that they have a so-called grace period – the period when the issuer does not charge interest for the use of credit funds. Most often, this period is about 50 days. Unfortunately, online same-day loans cannot boast of such a service; nevertheless, it is often possible to get the first loan without interest.
Credit cards also offer cashback – this gives you the chance to earn cash from the money you spend, by paying you back a percentage of what you spend or giving you a reward. It is worth noting that credit funds can be used for quite a long time – up to several years if its holder returns the withdrawn funds back on time. In a microfinance institution, it will be necessary to sign a new agreement each time to borrow money.
One of the obvious disadvantages of credit cards is that it is possible to receive one only within working hours of a banking institution, and the bank charges an additional commission for cashing money at an ATM, which often ranges from 5 to 10% of the amount. Also, when applying for a card, you can sometimes get rejected if you have bad credit. Only a few banks offer credit cards for bad credit.
Are Credit Cards Cheaper Than Payday Loans?
Using a credit card is usually cheaper than getting a payday loan. However, there are some important nuances. The best choice is based on your individual needs.
Payday loans can be a speedy way to get money, but they can be expensive. In most cases, they come with high interest rates. This can make them unaffordable for many people. They are only beneficial if you need a small loan for a few weeks.
A credit card cash advance can be a worthy alternative to short-term loans, especially if you have good credit. Some banks offer 0% interest cards. Credit cards can also be used to repay your debt through a balance transfer. Credit cards are also a good way to build your credit. You can also use them for everyday purchases.
If you opt for a payday loan, you can expect to pay high interest rates. The lender may also charge late payment fees, origination fees, and insufficient funds.
While credit cards are usually cheaper than payday loans, they can be very costly if you are not responsible. You can find yourself in a debt trap if you miss payments.
You will also pay large interest rates on your credit card cash advances. If you are not attentive, you could get into a debt spiral for many years.
Many credit unions offer affordable short-term loans. You can also get a cash advance through an ATM. Each credit card company limits how much you can borrow. This limit can help ensure that you do not take on too much debt.
Both credit cards and payday loans can rescue you in a tough financial situation, but they may not be the best solutions. You should assess your personal spending habits and the stability of your income before making a decision. You should also consider getting a loan from your friends or family, borrowing from your retirement plan or discussing an extended payment plan with your creditors.
Also, you may contact your credit union to find out if they offer payday alternative loans. These loans can help you build your credit history.
Credit Cards or Payday Loans: What to Choose?
Despite the general similarity of a credit card and a payday loan (both products involve borrowing funds), they differ significantly. You should know the key differences in order to make the right decision.
Firstly, a credit card allows you to use a revolving credit limit: that is, you can borrow funds as many times as you like as long as the card is valid (but within the limit set by the bank).
A credit card is issued faster than a traditional personal loan. Some banks offer online credit card application and home delivery.
Financial experts note that a credit card has hidden flaws. Since the limit is renewable, the borrower quickly gets used to borrowing funds on a regular basis, which is wrong.
Also, the person has a tendency to spend more than he or she can afford and make impulse buys. This forms irresponsible behavior, and often borrowers fall into financial pits.
With a payday loan, the client receives a lump sum, which can be used for any purpose. According to experts, payday loans, on the contrary, instill financial literacy and form a responsible attitude towards borrowing money.
A client who can be declined for a personal loan learns to repay small debts on time and manage the budget. In case of non-payment, the lender charges fines and penalties, and the borrower's credit score goes down.
Another nuance when applying for a cash advance credit card is the need to prove your employment (eg. recent pay stubs). Microfinance institutions do not have an employment requirement, so you can take out online loans without a job, even as a student or retired. The main thing is to have any source of income (pension, scholarship, social benefits, rental income, etc.). Banks are more strict in assessing the borrower's credit score, income and age. Approval rates have fallen down in recent years.
Thus, payday loans are easier to access. Approval rates reach 94%. You will be able to use the money for whatever needs. At the same time, the application process is very fast and simple – no calls, no paperwork, no guarantors, no collateral. There are even bad credit loans today. In addition, repeat borrowers can take advantage of generous promotions and lower interest rates.
Category: General
Tags: cash advance, credit card, finance, money, online loans, payday loans